Betekenis
Karate betekent 'Lege hand' en is van oorsprong een doeltreffende manier van zelfverdediging zonder wapens.
Men gebruikt hoofdzakelijk de ledematen (handen, ellebogen, knieën en voeten) als natuurlijke wapens om aanvallen af te weren of om te slaan, te trappen of te stoten. Ook worpen en klemmen behoren tot het ruime pakket dat deze Japanse krijgskunst u te bieden heeft.
Door het gebruik van effectieve technieken leert men iemand op afstand te houden of uit te schakelen. Teneinde deze effectieve technieken maximaal te benutten, is het ontwikkelen van snelheid, weerstand, coördinatie en kracht van essentieel belang. Deze fysiologische domeinen van de sport komen dan ook regelmatig aan bod tijdens de training.
Voor Jong en oud
Pedagogen zijn het er ook over eens dat karate een uitstekend middel is om de persoonlijkheid te ontwikkelen zowel in lichamelijk als in geestelijk opzicht. Naast het trainen om zich te verdedigen, zorgt karate bij kinderen en jong volwassenen voor een verbetering van de motoriek van het lichaam daar alle oefeningen zowel links als rechts worden aangeleerd.


Karate begint met een groet en eindigt met een groet
Dit is de eerste regel van de 'dojo kun' (gedragsregels van de school) en slaat op het respectvol met elkaar omgaan.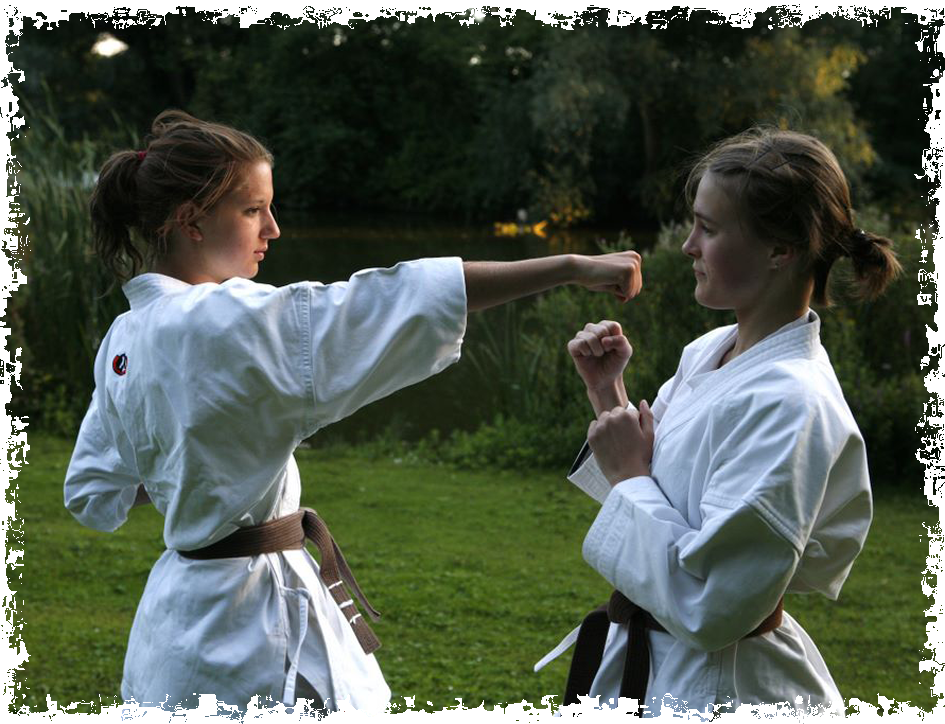 Door het trainen in groep verbeteren ook de sociale vaardigheden van kinderen. Verder biedt het de mogelijkheid om hun energie te kanaliseren op momenten waar deze het meest van nut is. Ze leren als het ware omgaan met momenten van rust en actie wat voor een scherpere concentratie zorgt.
Discipline, die onafscheidelijk verbonden is met onze sport, zorgt ervoor dat de beoefenaar zichzelf leert beheersen. U komt dan ook geen gewelddadige personen tegen in het traditionele karate.

Karate, net zoals kokend water, wordt terug koud
als je het geen continue graad van inzet geeft
De tweede regel van de 'dojo kun' slaat op het vormen van uw karakter: u leert volharden en doorzetten.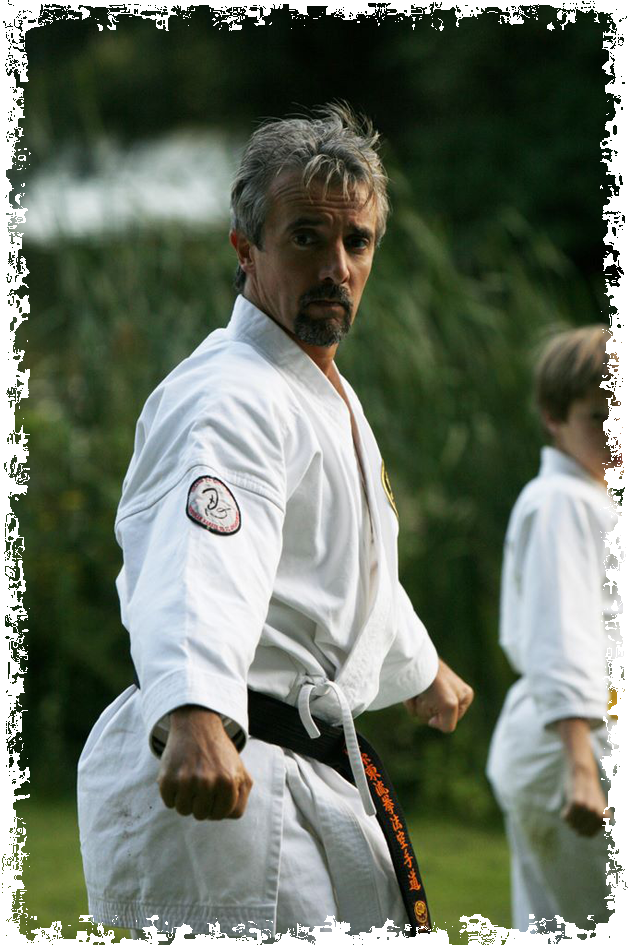 Voor ouderen is het de ideale manier om lenig en fit te blijven. Het vermindert de kans op o.a. overgewicht, verhoogde bloeddruk en hartziekten.
Karate beoefenen biedt dus vele voordelen. Naarmate u vordert zal uzelf en uw omgeving ontdekken dat zowel uw fysieke als uw mentale
conditie verbeterd zijn!